A drawing method using a pen and pencil with its roots in calligraphy, drawing, meditation and patterns. By using simple tools and a structure, it encourages you to bring deliberate focus and attention to the line you are drawing. With basic strokes, it is easy to reach a calm rhythm. The technique is suitable for children, novices and seasoned artists alike, a method of building complex images from the repetition of simple patterns. Applied carefully, Zentangle yields an impressively elaborate finished product composed of a few hundred effortless pen strokes.
Want to de-stress with beautiful creativity? Think you can't draw? Try some creative fun with the Zentangle® Method..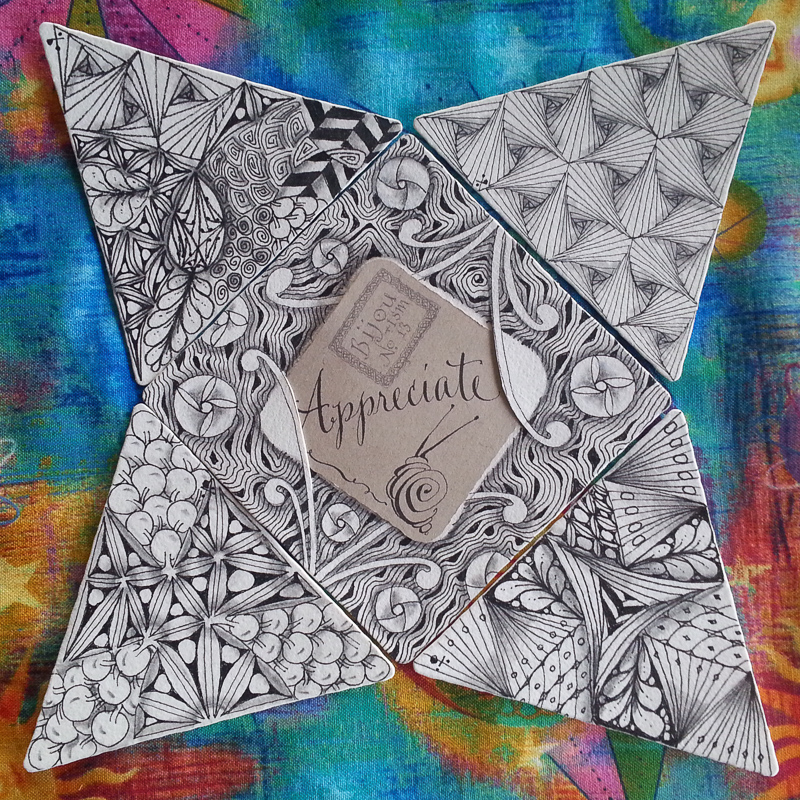 How does it work? We live our life through patterns. Our brains are attuned to finding repeats, symmetry, organisation and simplicity, we use them in life to make our predictions and decisions. Knowing what comes next in a process is equally important; being given instructions in small steps reduces anxiety. Connecting your mind whilst being creative with your hands, gives you a safe, comforting and easy way to calm down, regulate your emotions and manage time.
The secret of Zentangle? At its heart, Zentangle is all about being in the moment. You focus on a deliberate line or element. You pay attention to your current task – a particular tangle within a known space. You can enter a flow – using steps with minimal decisions which push away worries and distractions, and you can bring in your own style too. There is no worry of what it 'should' look like, the art is non-representative. The drawing unfolds in an unplanned yet structured way, and each person's work comes out differently. The method allows you freedom to explore artistically too. With portable tools, it's an easy way to encourage creativity. A fantastic meditative tool.
Is it just doodling? No, the process isn't about watching your line grow in a random absent-minded fashion, it's about using deliberate strokes in a repetitive forms to gain a focus. There are borders and boundaries put in place to help you focus on drawing the next elemental line. Each tangle follows different steps, done with purpose and intent, which continually adds to the artwork.
It's also different in some ways to other artistic/ creating methods, because you are not copying, referring back to instructions, following a guide or a model. With the freedom of not having a planned outcome, and some excellent guidelines and processes which give you structure, to allow you to focus on the lines, and helps increase self confidence in your artistic expression. Zentangle is enjoyed all over the world, across a wide range of skills, interests and ages. Based on the belief that life is an art form, the Zentangle Method is an elegant metaphor for deliberate artistry in life. Ildica would describe it as ideal for those who want to experience mindfulness in a creative way.
Many people who don't always connect with traditional meditation enjoy the Zentangle process because it combines an activity with relaxation.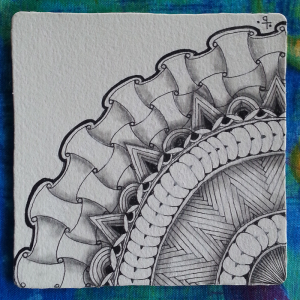 Why is it suitable for relaxing? The step by step process of creating strokes make it an intuitive art form incorporating meditation practices; when you are tangling, you are not stressed about 'what' you're drawing. Follow the easy formulas for a particular tangles, then it is straightforward to repeat. You can choose to draw easy tangles or build up more complicated ones .
Enjoyable and easy
An accessible art form for children and adults
Cross training for artists
Relaxing
A mindfulness exercise
A tool
A simple way to discover new perspectives
A valuable life skill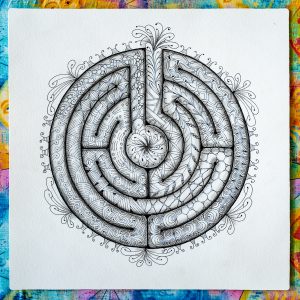 You can use the Zentangle Method to:
Stimulate creativity
Improve focus
Keep a personal journal
Enhance existing skills
Develop a new skill
Change your mood
Increase confidence
Create beauty
Inspire new ideas
and just have fun drawing
A Zentangle creation is: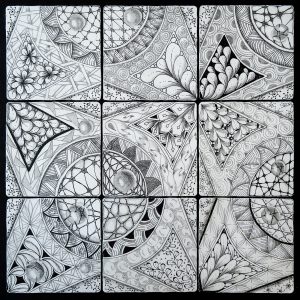 Unplanned, its results will surprise you
Without up or down – can be viewed and drawn in any orientation
Abstract (non-representational), a collection of patterns – not a drawing of something
Can be drawn with either hand
Small enough to complete in 15 minutes (although you can take as long as you like)
Portable
A non-verbal journal entry
Not limited by technology
A treasured work of art
Always friendly, if you get stuck, she always has time to help individually.