Congratulations everyone!
It was amazing to produce this enormous piece of art, and I couldn't have done it without the team of tanglers that turned up to join in the fun.  I'll finish off the border with some shading, and the 6 tiny spaces that need to get filled, and then it will be going on show at CCC's South Library Gallery Wall for the month of February 2022, so if you are in Chch head on down, grab your friends and whanau and show them your work, or come and view this incredible piece of tangling work!  (You can always grab a book and have morning tea at Novel cafe too!) You won't miss it – it's 6.5m by 1.5m up behind the adult fiction shelves!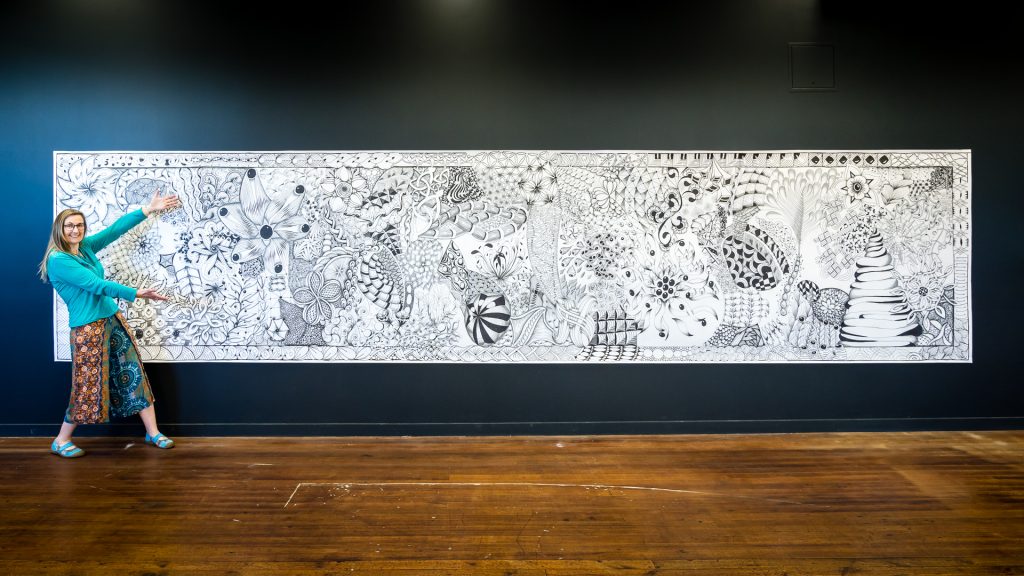 History of the project is that TangleatioNZ and Life in Vacant Spaces joined together for a creative community project over five days in September/ October 2020, to 'tangle' some patterns on the wall at LiVS's site in Waltham. It was delightful to make it happen and a couple of us keen to do it again. We just need to get the word out!