This page lists various tangles of my own. Everyone is welcome to use these step-out instructions to re-create any of the tangles found on this page. However, all images featured below remain the intellectual property of Ildica Boyd.  I ask that the images below not be copied or reproduced, but of course feel free to draw your own step outs, and include them in your work!
This is new page for me, so it may take me a while to list my tangles as I transfer them from teaching in lessons to put online! More coming soon!
Pikoruairi
Pikoruairi is a tangle based on deconstructing a craving design used in Maori wood, pounamu and glass works – the Pikorua (although this twisted design is seen in other pacific and worldwide patterns and designs) however in Maori the design represents the strength of enduring friendship, loyalty and interwoven lives, much like the Zentangle community.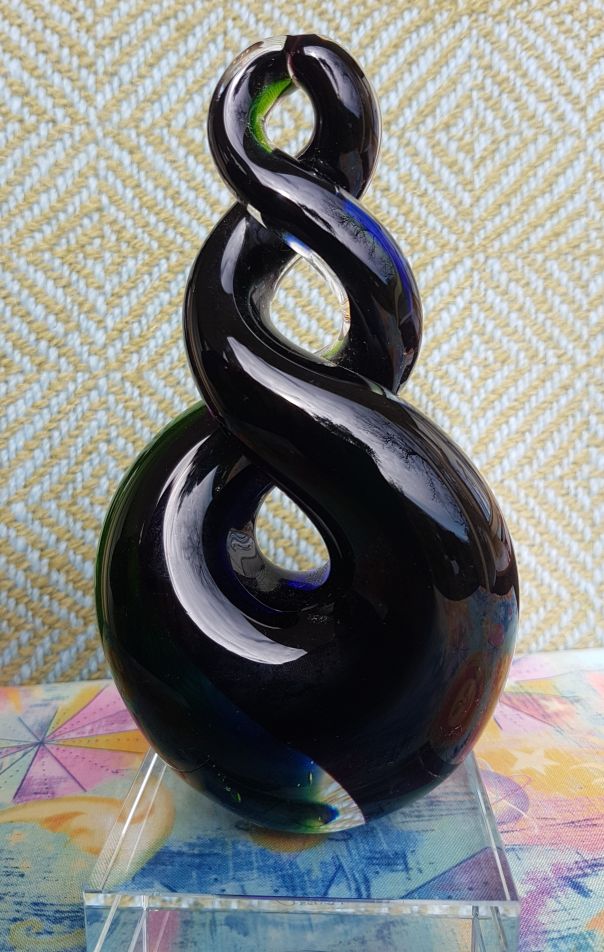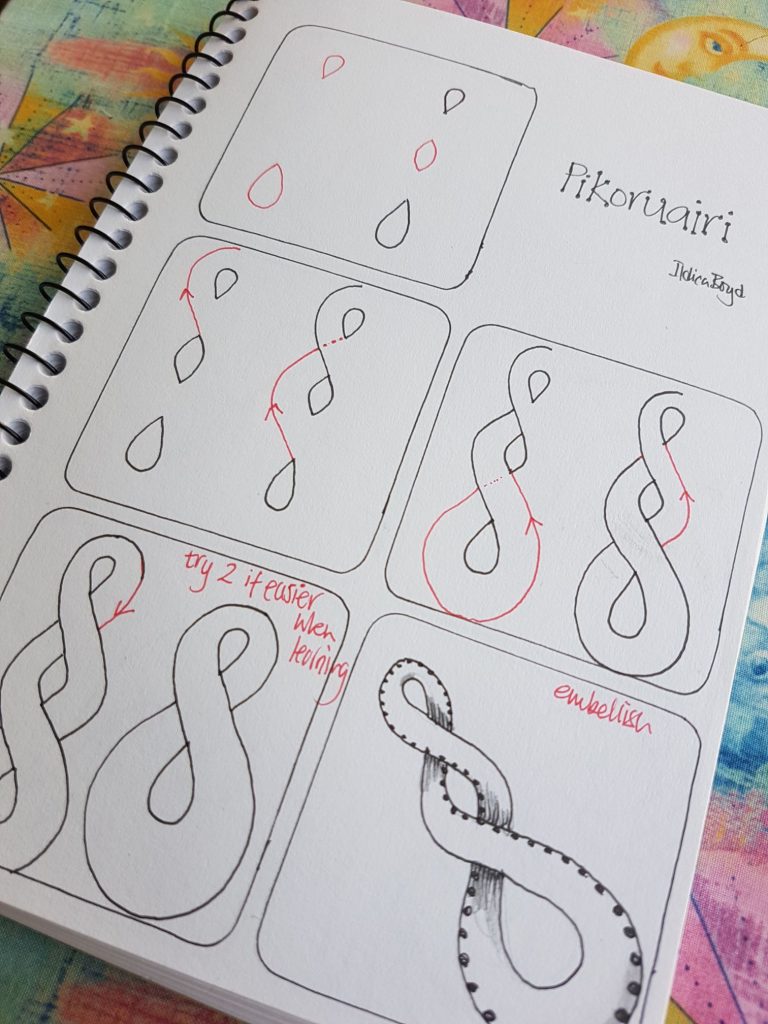 Tripiko
Tripiko This tangle came about from my love of tangos – taking two tangles and mixing them to dance together. This one is from my own Pikoruairi and Trinity by Stephanie Kiefhaber. I used the elemental strokes of the two different tangles to give a blossom tangle which grows in three layers. It's ripe for adding various endings to the twists to suit your style and embellishing with other tangles behind it.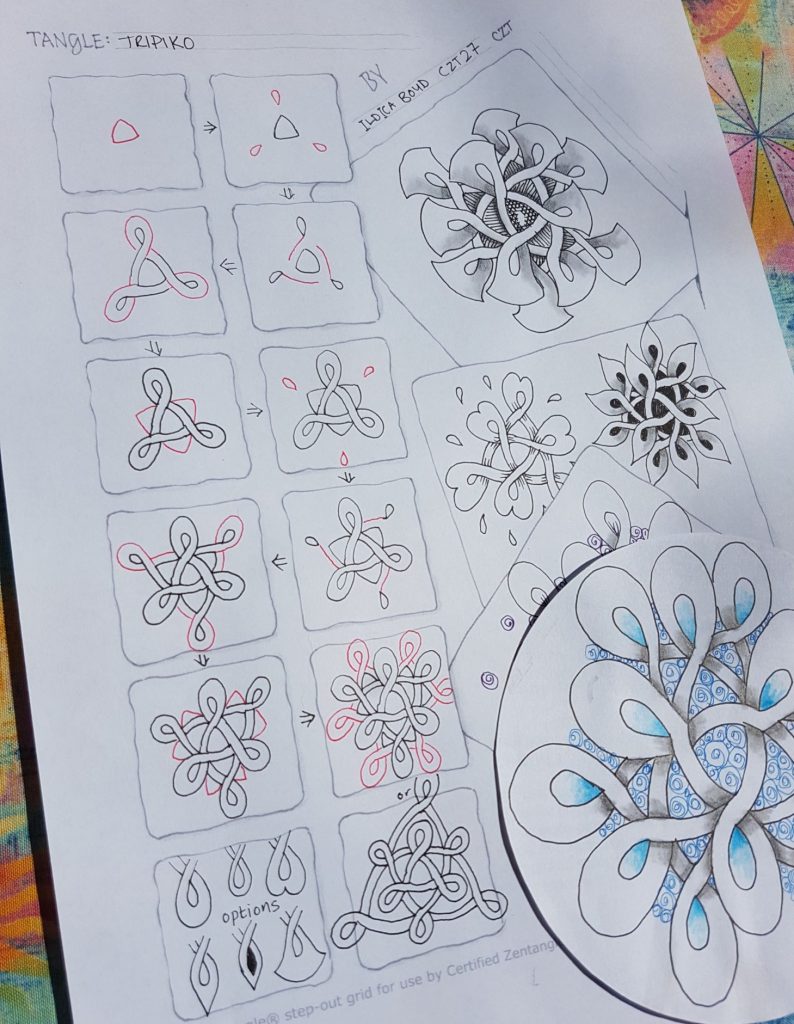 SharpeNZ
SharpeNZ came about because as a tangler we spot patterns everywhere! When I treated my coloured pencils to being sharpened all at the same time prior to a lesson, and then within the little tub of sharpened rubbish I saw a tangle! This tangle works well whether it is overflowing the section edge, or as a background tangle tucked in behind others and with some shavings floating away.
Zunnel
Zunnel – Another tango tangle this one has it's roots in Zinger (ZenHQ) and TunnelVizon by Jody Genovese. I always love a blossom tangle and this is a great combo one with my Zunnel creatures heading out to explore the universe. I originally made this up as like mini floating TunnelVizion creatures floating off from a TunnelVizon base, but I like the drama blossom to set this guys off!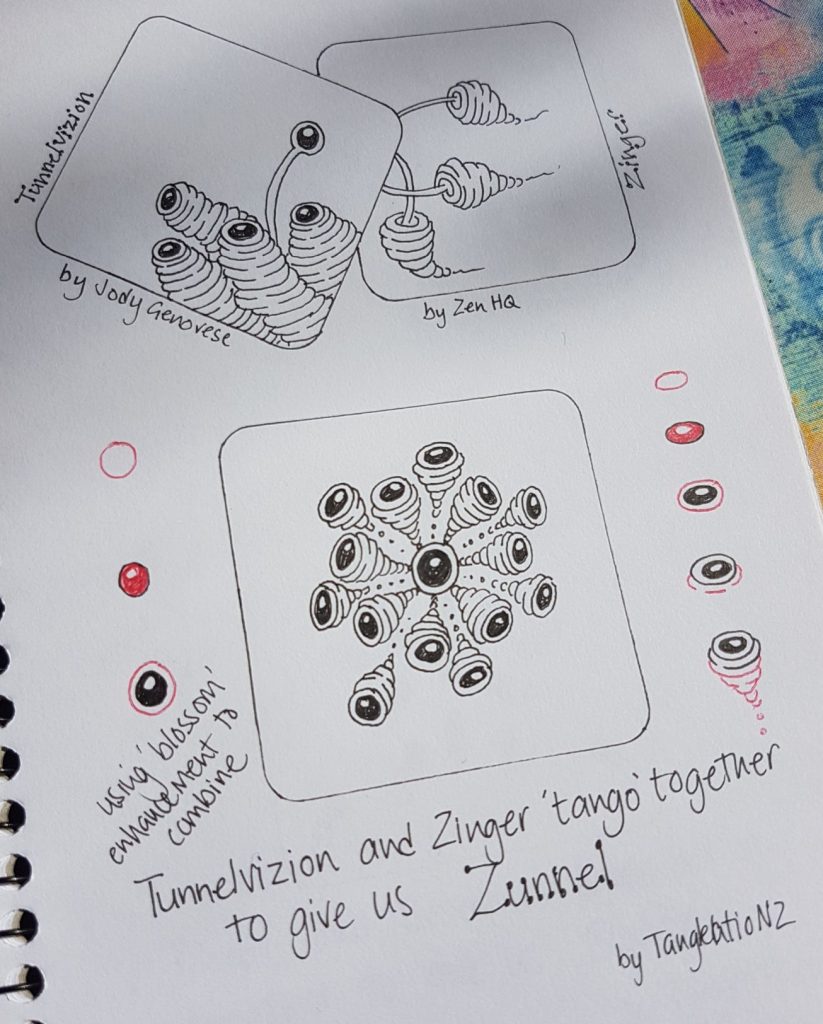 3BSix
3BSix – Another tango based tangle, which took a lovely delicate tangle 3 Loop6 by Mina Hsteo and Beadlines by Margaret Bremner. I created a 'golden snitch' (for the Harry Potter fans) type tangle which is great for floating in a background. You can take the floating elements and place them in various different parts of a tile to bring the whole thing together too.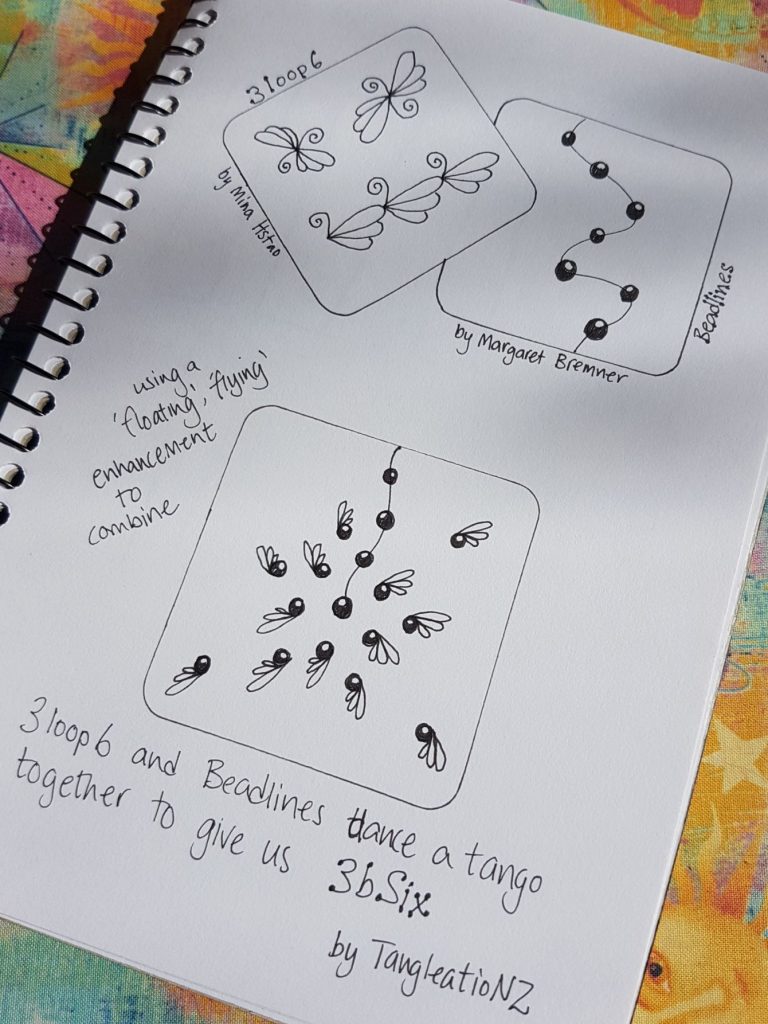 Halofoil
This tangle will be recognised by many in New Zealand as the very recognisable Māori pattern representing the Hammerhead shark – mangōpare – symbolising strength, leadership, agility, tenacity, unrelenting determination, and courage. (Our weather service here has a pair of them in their logo – I think it aptly describes our weather sometimes!) I have called the tangle Halofoil, from the Cephalofoil ( the name of the shape of the head of a hammerhead). If you are a Mooka fan, you will probably enjoy drawing this tangle, whether in a growth, blossom or individual element way. enjoy playing with it.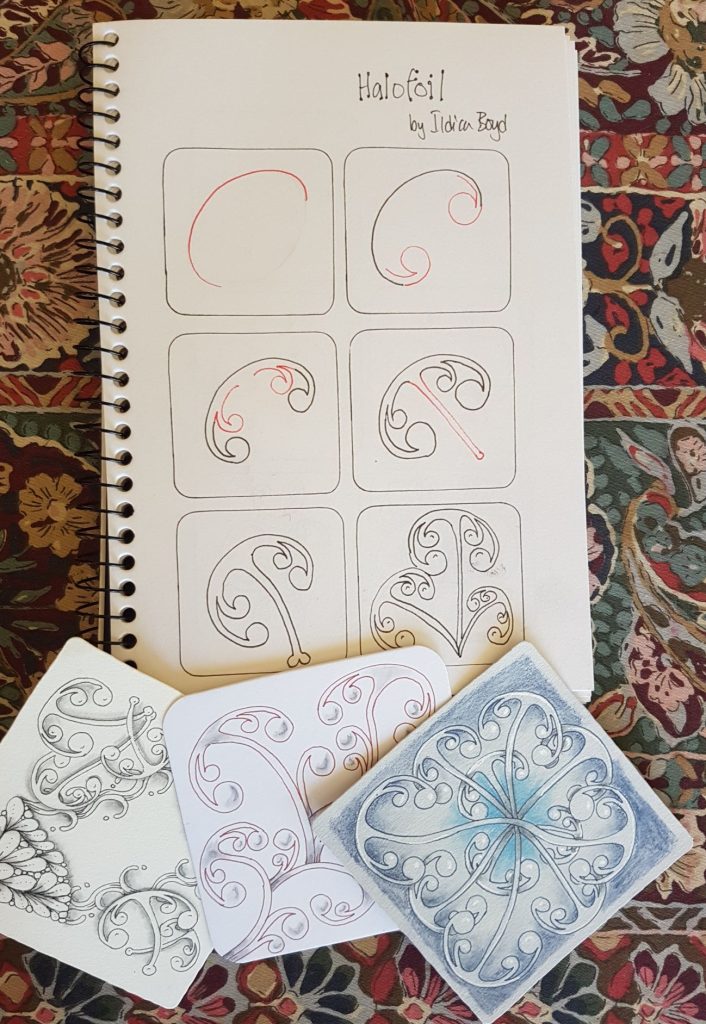 Puffform
A really simple tangle just involving some weird and wonder 'C 'strokes. Unbalanced, random angles, sizes and depths your 'c' curves build in a tower to produce this tangle based on some wall art, I saw on a wall in one of downtown Wellington's pedestrian alleyways. Where they are worms, intestines or puff adders who knows!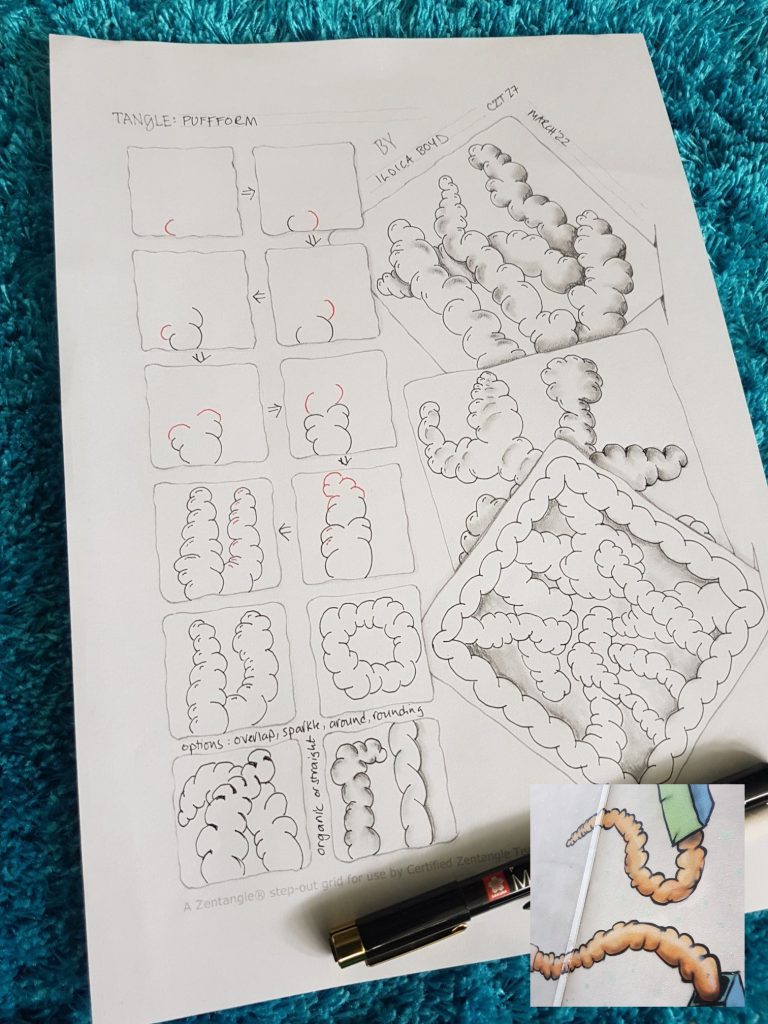 Rocksplash
This was a tangle inspired after a tramp (kiwi word for walking in the wilderness) with the family, playing a cheeky game. Mischievousness is the game, as when one of your group is crossing a river, and the other delight in throwing in rocks to splash them – the family tradition was started by our kid's paternal grandparents, so taking no credit for coming up with the game, but did come up with the tangle! Please note: never a good idea to start the game, if you are yet to cross the river! The mischievous smile is the first elemental stroke of this tangle!