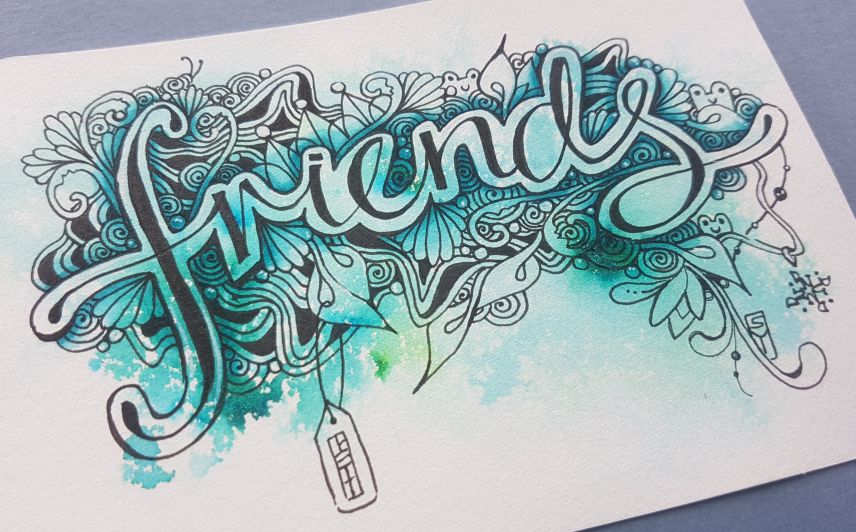 In October I headed off visiting friends and family. First I caught up with the tangling team of 7F5R in Singapore – and how about this beautiful artwork as a welcome present! It was the start of a fabulous and busy weekend of sightseeing, tangling, studio visit, art shop stash shopping, a superb batik textile exhibition and out and about in Singapore; spending time together with friends. My bigger trip continued westward, and being able to spend time with immediate and extended family, as well as catching up with lots of friends in the UK. My Inktober tangling project is woefully behind the diary dates – but what the month did give me, was some tangling time alongside friends and family which I really appreciated.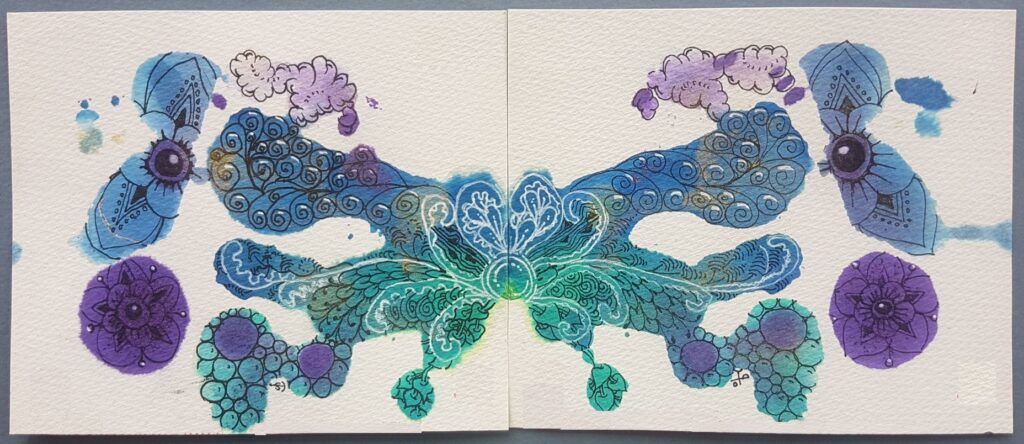 Above is what I got up to with my mum! Side by side we did this pair of tiles, with help from a lesson by Debbie New based on ink blots – Great fun being able to tangle shoulder to shoulder with these mirrored tiles, pre-loaded with Lindy's Magicals. I have no idea what hidden picture was within this, but I do know I was grateful for the opportunity, and we were entertained as we put pen to paper together. Great fun to bounce ideas and themes off each other to keep them as a pair.
Another way to tangle with a friend is through a swap or traveling tangle.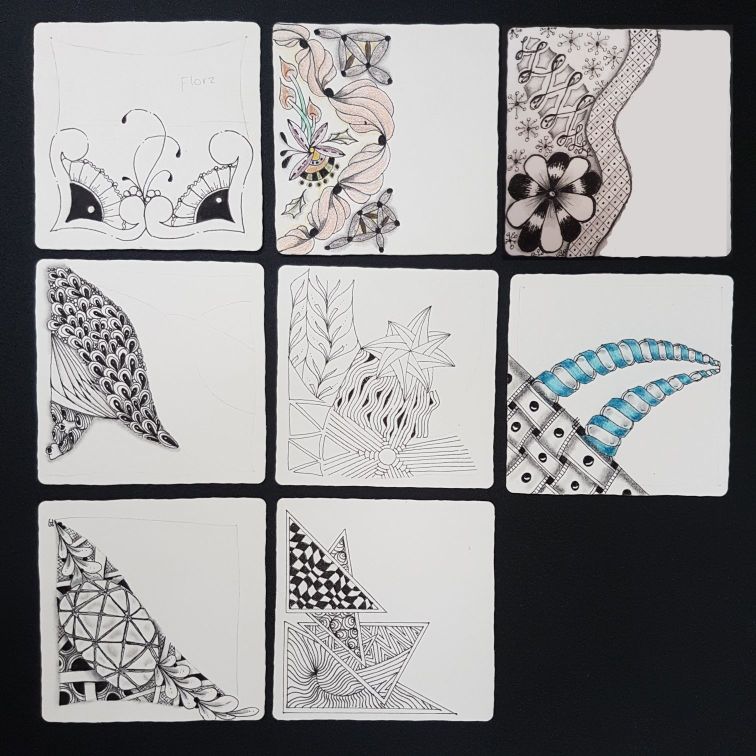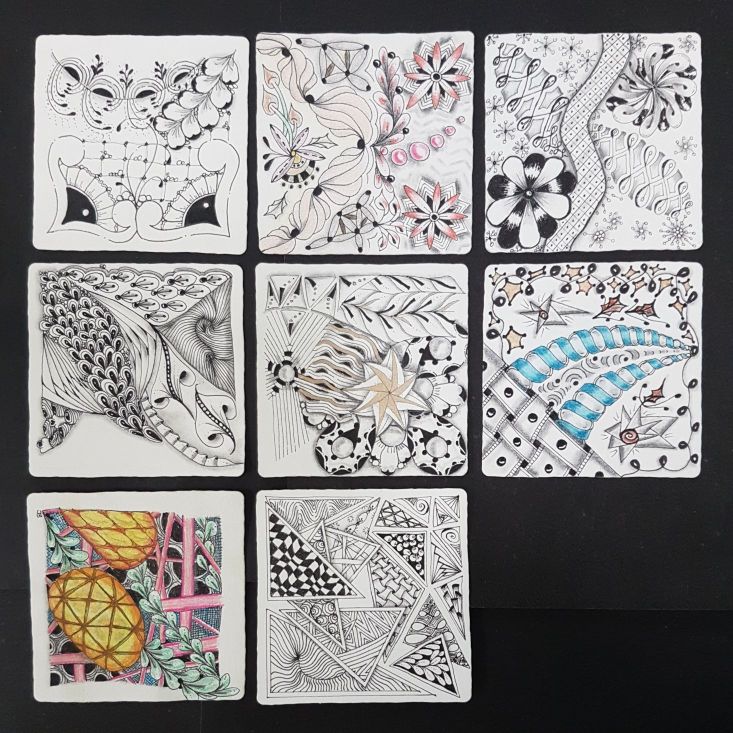 Starting a tile and then letting someone else finish it is a quirky way of recognising that you should trust your tangling capabilities (and the Zentangle Method). The experience of taking yourself outside your comfort zone of 'only your own' tangling, when you are faced with finishing off someone else's start can feel daunting – but trust it. I will often add this 'swap' project as a bonus in some of my sets of lessons, or add tiles to outgoing orders of materials. It's interesting to watch how the tiles expand in different ways and how they finish up. Definitely worth trying with a friend.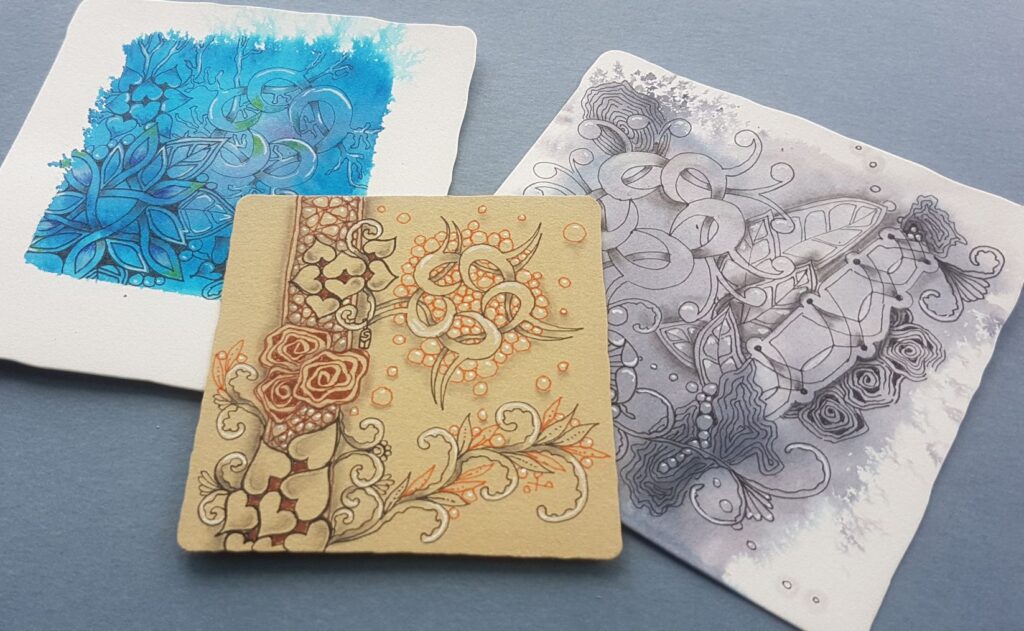 However you don't need to be close by – you can always send one in the mail to a friend and get them to complete it – which I did with three beautiful tiles sent to me from the 7F5R team – Debbie New, (creator of CZTAE), Stephanie Jennifer (creator of Inktober Tangles) and Susan Yeo, before I caught up with them in person. So if you want to branch out and find some new tangling friends you can join Traveling Tangles – a FB group set up to do just that.
And continuing on the theme of friends, in my shop I have had to say goodbye to a friend – my cream paper has had supply issues that I just can't resolve – so instead, say 'hello' to two new tiles – in green and blue tones. Available in my Artist tiles or the 8-point Star tiles These work well when using a traditional micron pen, graphite shading and white highlighting; or you have options go bolder – the blue tile was completed with moonlight pens, which work brilliantly on coloured papers (below I used the Earth Moonlight set). The Jewel and Earth Moonlight sets have a fine 06 nib (0.3mm) and as we don't want a lot of colour decisions with tangling – a wee set can be just the ticket.